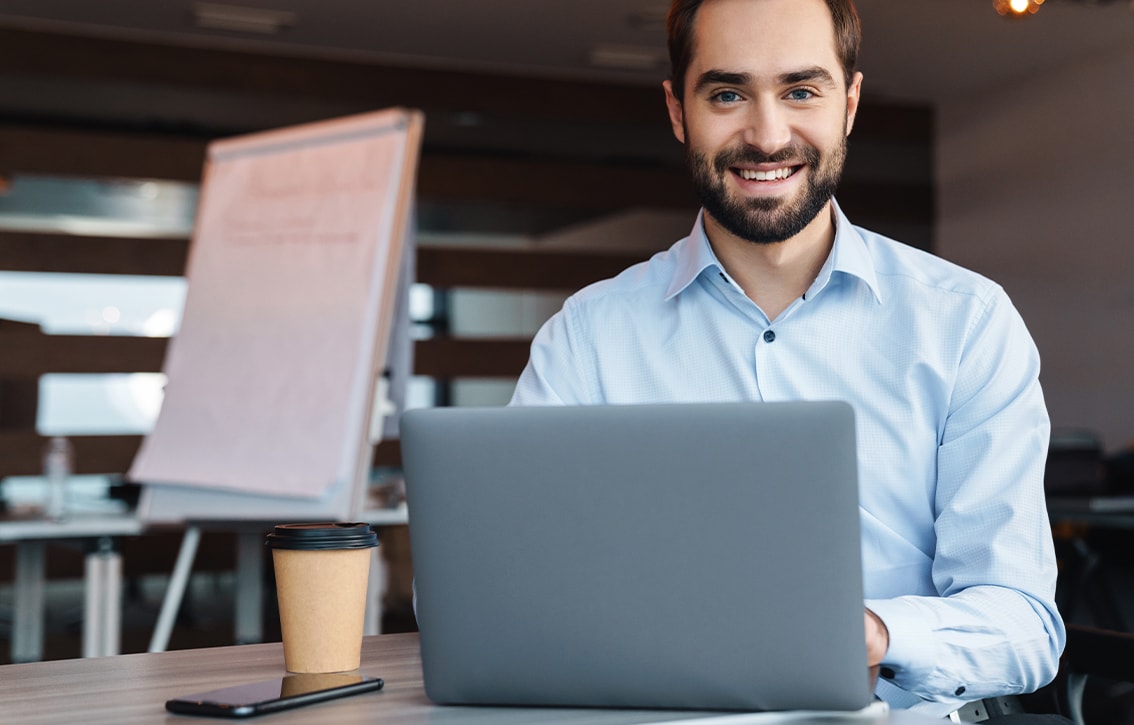 CVOS Oral Surgery encourages continuing education seminars and workshops to further learning and development in relevant topics. Our continuing education page is populated with events that you can attend to progress your education.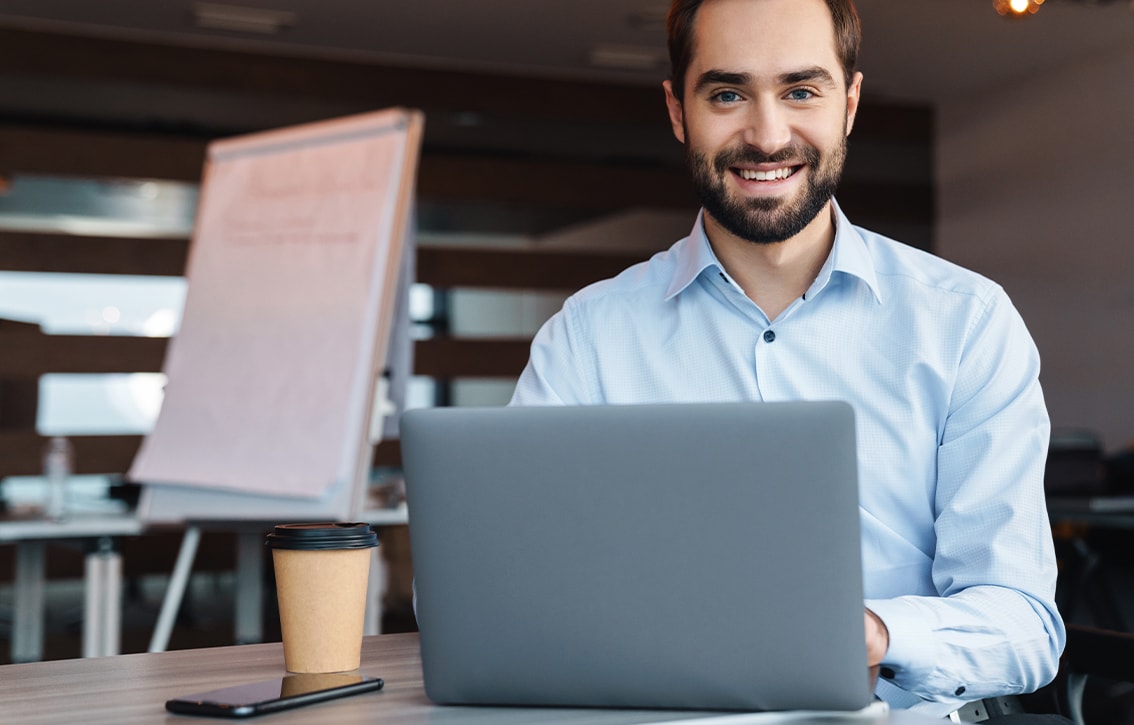 Topic: How to Find & Hire New Staff in Today's Challenging Dental Labour Market
Speaker: Michael Lemmer, Founder, ML6 Search + Talent Advisory
Since the onset of the pandemic, it has become increasingly difficult within Dentistry to find and hire qualified new employees. As scarcity increases, employment costs increase but continuously paying new employees more and more isn't sustainable. Also, many practices simply are not able to keep up with skyrocketing wage rates. Learn what your practice can do to attract and hire the amazing new staff your practice needs to succeed and grow.
LEARNING OUTCOMES:
Attendees will learn:
What is happening in the employment landscape and how this has impacted talent acquisition efforts, in general.
How this has impacted the healthcare space and some interesting trends that recruiters are seeing.
How, in a candidate-driven market, the candidate is now in the drivers seat and what this means for you as an employer.
Recruitment Best Practices, both in general and specific to the healthcare space including tips you can implement immediately to get an edge on the clinic down the street.
What you can do to differentiate your clinic as an employer of choice.
Date: Thursday, April 28th, 2022 @ 12pm (1 hour)
Location: Online
CE Credits: 1 credit
Questions? Contact Gavin Rouble at [email protected]
ABOUT THE SPEAKER:
Michael Lemmer founded ML6 Search + Talent Advisory in 2017 after a successful corporate career which saw him building and leading high-performance teams across a multitude of functions and industries. Throughout his experiences, one constant is his ability to identify and nurture key talent, taking teams and businesses to the next level.
In his most recent role, he led the Human Resources function for a private equity-backed healthcare services provider, and helped grow them from 30 to over 200 locations across Canada. Michael has a B. Comm from the University of South Africa specialising in Management, and spent the early part of his career in sales and business development.
While you may often hear him reminiscing about the weekends spent climbing, braaiing, and eating biltong in the mountains of South Africa, he has called Canada home since March 2008, and takes full advantage of all this beautiful country has to offer. His down time is spent running the local trails, camping with his family and caring for his chickens, bees and vegetable garden. Michael lives in rural Burlington with his wife, four active children, and two pups, Kensi and Khali.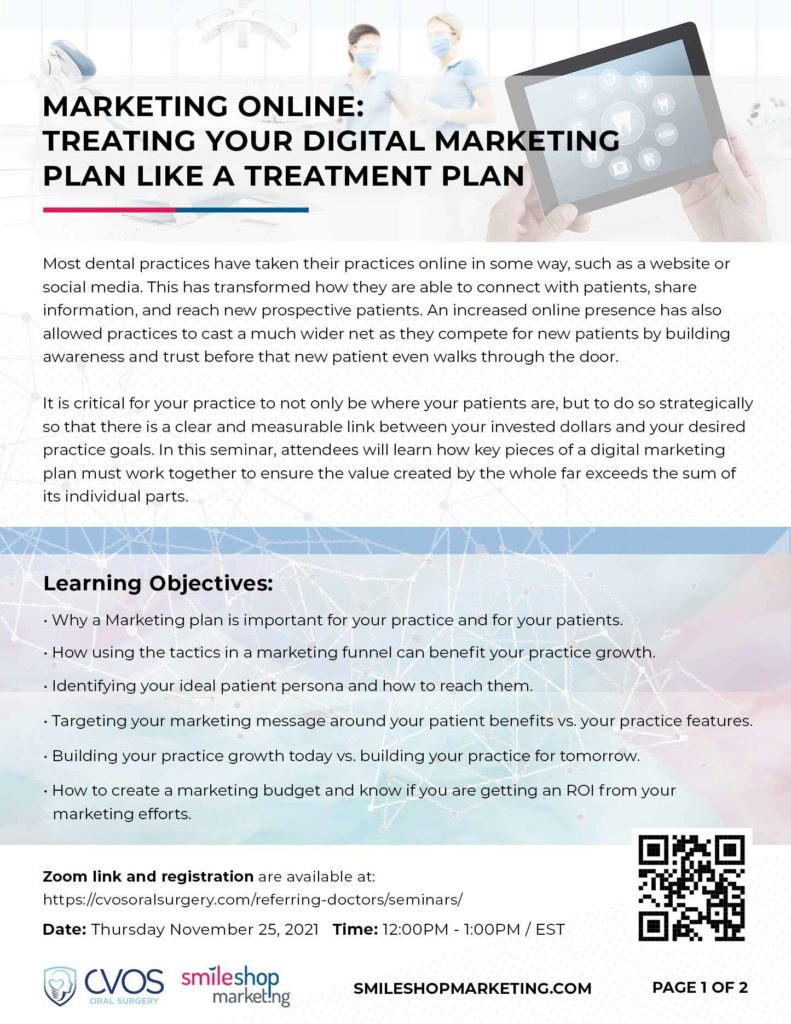 Speakers: Shaila Kanji & Sadie McInnes, SmileShop Marketing
Topic: Marketing Online: Treating Your Digital Marketing Plan Like A Treatment Plan
It is critical for your practice to not only be where your patients are online, but to do so strategically so that there is a clear and measurable link between your invested dollars and your desired practice goals. In this webinar, attendees will learn how key pieces of a digital marketing plan must work together to ensure the value created by the whole far exceeds the sum of its individual parts.
LEARNING OUTCOMES:
Attendees will:
Why a Marketing plan is important for your practice and for your patients.
How using the tactics in a marketing funnel can benefit your practice growth.
ldentify1ng your ideal patient persona and how to reach them.
Targeting your marketing message around your patient benefits vs. your practice features.
Building your practice growth today vs. building your practice for tomorrow.
How to create a marketing budget and know if you are getting an ROI from your marketing efforts.
Date: Thursday, November 25th, 2021 @ 12pm (1 hour)
Location: Online
CE Credits: 1 credit
Questions? Contact Gavin Rouble at [email protected]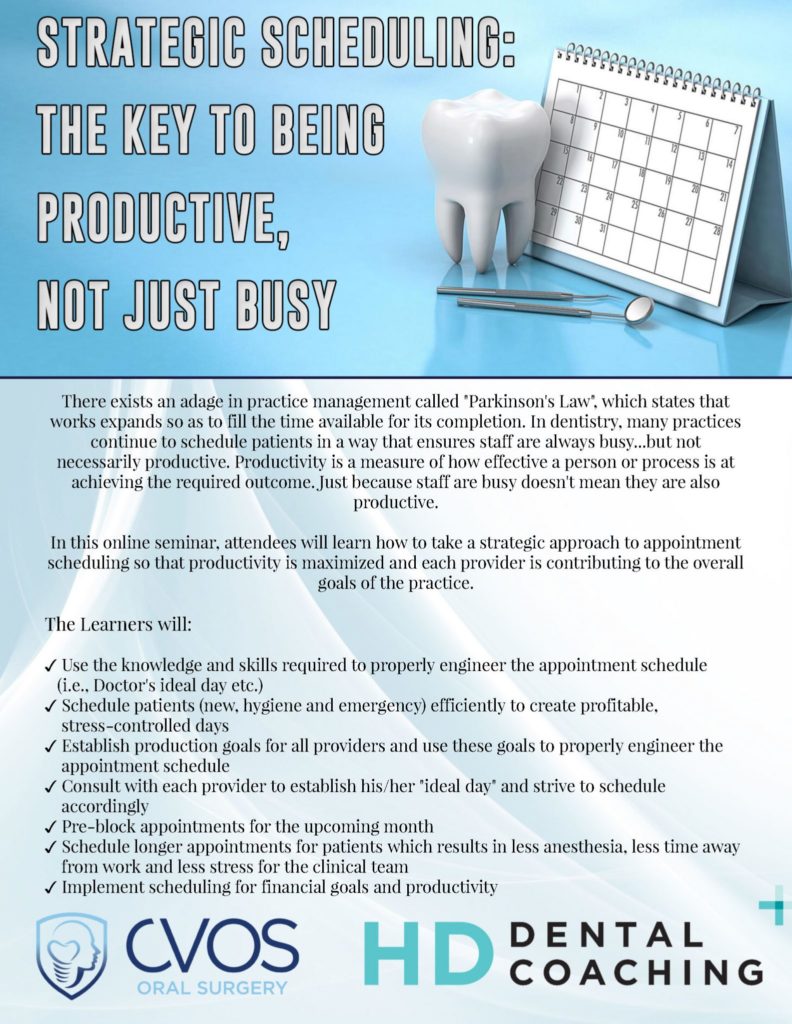 Speaker: Linda Anderson, Adult Ed. CTP, HD Dental Coaching
Topic: Strategic Scheduling: The Key to Being Productive, Not Just Busy
Productivity is a measure of how effective a person or process is at achieving the required outcome. Just because staff are busy doesn't mean they are also productive. In this online seminar, attendees will learn how to take a strategic approach to appointment scheduling so that productivity is maximized and each provider is contributing to the overall goals of the practice.
LEARNING OUTCOMES:
Attendees will:
Use the knowledge and skills required to properly engineer the appointment schedule (i.e., Doctor's ideal day etc.)
Schedule patients (new, hygiene and emergency) efficiently to create profitable, stress-controlled days
Establish production goals for all providers and use these goals to properly engineer the appointment schedule
Consult with each provider to establish his/her "ideal day" and strive to schedule accordingly
Pre-block appointments for the upcoming month
Schedule longer appointments for patients which results in less anesthesia, less time away from work and less stress for the clinical team
Implement scheduling for financial goals and productivity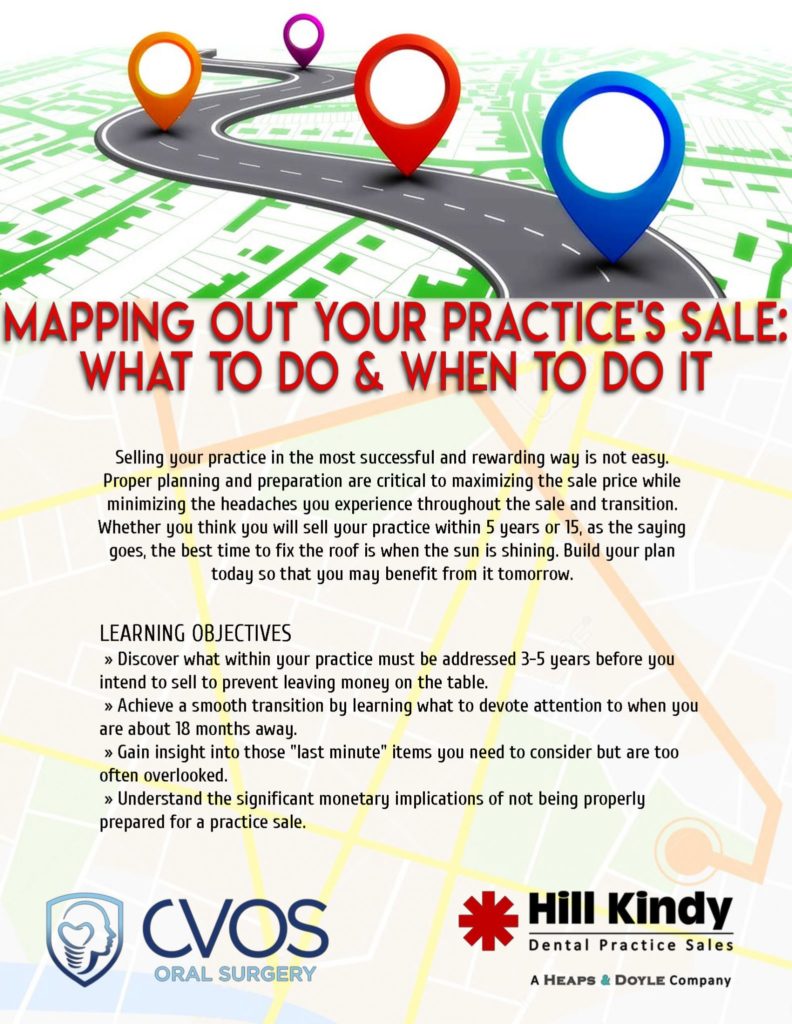 Speaker: Derek Hill & Cass Paolella, Hill Kindy Practice Sales & Realty Inc., Brokerage
Topic: Mapping Out Your Practice Sale: What To Do & When To Do It
Proper planning and preparation are critical to maximizing the sale price while minimizing the headaches you experience throughout the sale and transition. Whether you think you will sell your practice within 5 years or 15, as the saying goes, the best time to fix the roof is when the sun is shining.
Build your plan today so that you may benefit from it tomorrow.
LEARNING OUTCOMES:
Attendees will:
Discover what within your practice must be addressed 3-5 years before you intend to sell to prevent leaving money on the table.
Achieve a smooth transition by learning what to devote attention to when you are about 18 months away.
Gain insight into those "last minute" items you need to consider but are too often overlooked.
Understand the significant monetary implications of not being properly prepared for a practice sale.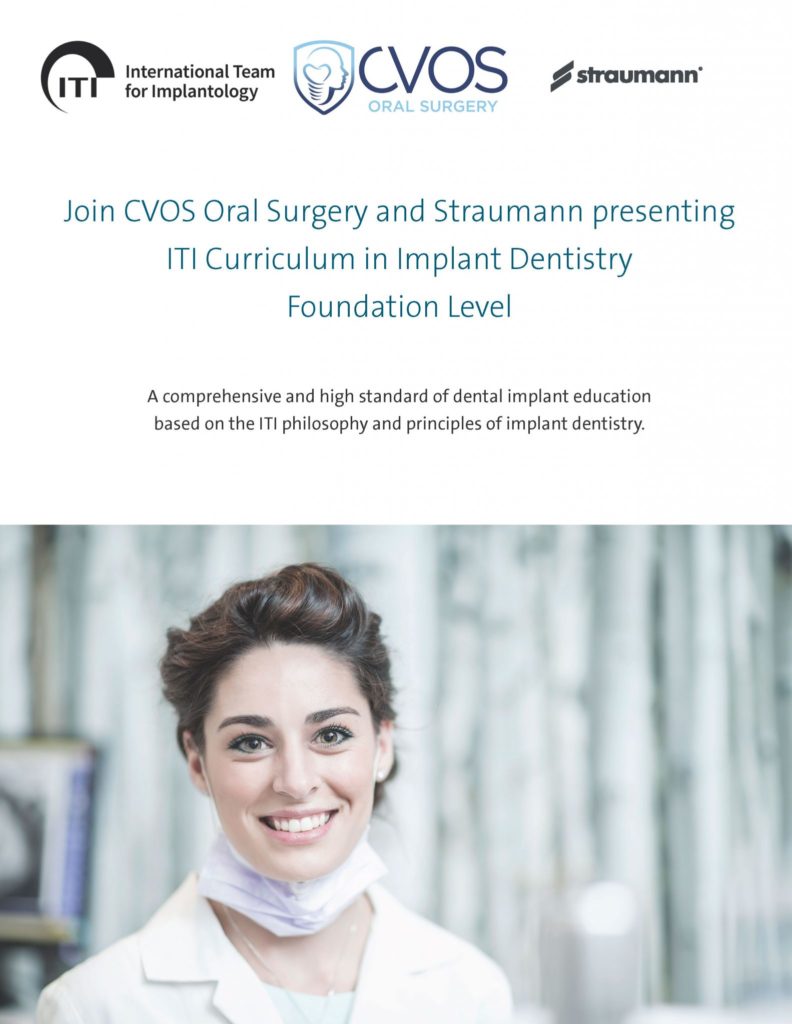 Join CVOS Oral Surgery & Straumann Presenting ITI Curriculum in Implant Dentistry – Foundation Level
A Comprehensive and high standard of dental implant education based on the ITI philosophy and principles of implant dentistry.
The course, which blends online learning modules, onsite presentations, and hands-on programs, provides a broad theoretical basis in implant dentistry. Participants will experience a structured learning approach to building successively on theoretical knowledge towards clinical implementation and first-hand experience to treating patients. The course concludes with assessment and certification process, where upon completion and successfully passing the final exam, the participant will be awarded an ITI Certificate in Foundational Level Implant Dentistry.
All didactic sessions will be completed online via the ITI Foundation Classroom and must be completed by the hands on date. The hands-on session will be in person at the venue listed on the course details.
BONUS OPPORTUNITY
Participants who successfully complete Foundation Level curriculum qualify for Intermediate level instruction, which builds on the knowledge acquired in the Foundation level by applying it in surgical placement and live patient treatment mentored by a CVOS oral and maxillofacial surgeon. On completion of the Intermediate Level course, you will acquire:
Competence in the assessment, planning and performance of the surgery and prosthodontic treatment.
Practical expertise in treating straightforward and minimally advanced cases according to the SAC classification
Date: TBD
Location: Didactic Sessions Completed Online
CE Credits: 26 Hours (Provided by the ITI)
Fee: CAD $895
To Register: Contact Dino Vlahavas at 905.630.9461 or dino.vlahavas@straumann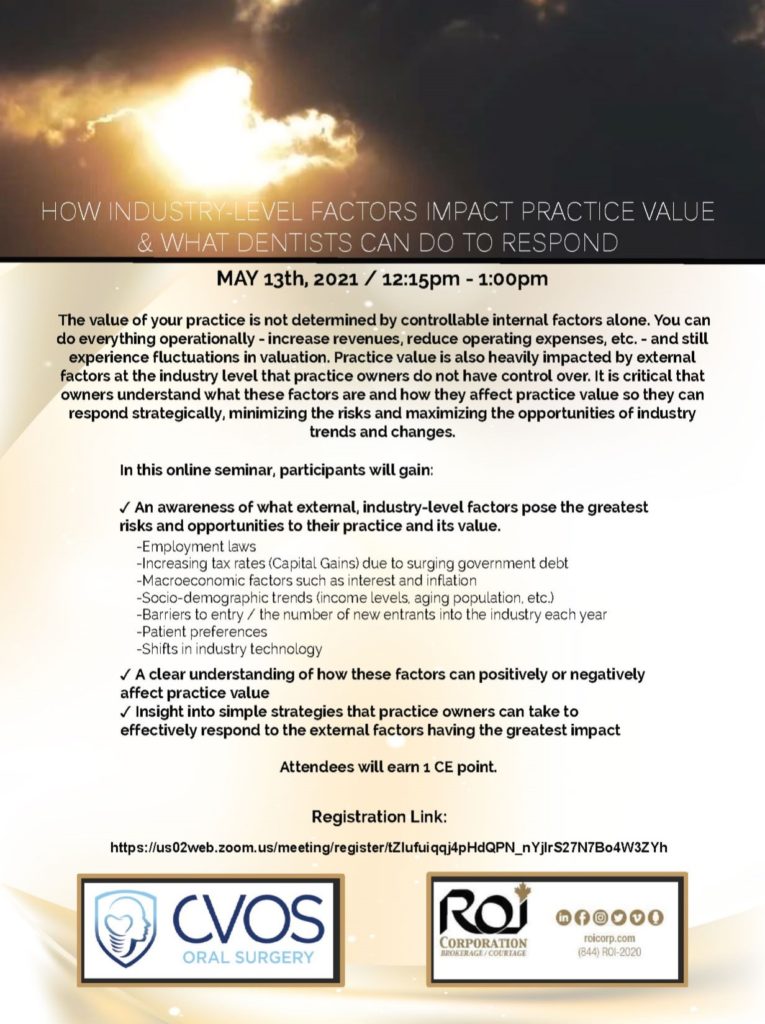 Speaker: Timothy A. Brown, FRI, CEO & Broker of REcord, ROI Corporation Business Brokerage
Topic: How Industry-Level Factors Impact Practice Value & What Dentists Can Do To Respond
The value of your practice is not determined by controllable internal factors alone. Practice value is also heavily impacted by external factors at the industry level that practice owners do not have control over. It is critical that owners understand these factors and how so they can respond strategically, minimizing the risks and maximizing the opportunities of industry trends and changes.
Join us on May 13th when we are joined by Timothy A. Brown, CEO & Broker of Record at ROI Corporation, who will dig deeper into the effects that external factors have on practice value! Register Now!
LEARNING OUTCOMES:
Gain an awareness of what external, industry-level factors pose the greatest risks and opportunities to their practice and its value.
Gain a clear understanding of how these factors can positively or negatively affect practice value
Gain insight into simple strategies that practice owners can take to effectively respond to the external factors having the greatest impact.
Location: Online
Audience: Practice Owners, Office Managers, Business Managers
Fee: Compliments of CVOS Oral Surgery and ROI Corporation Business Brokerage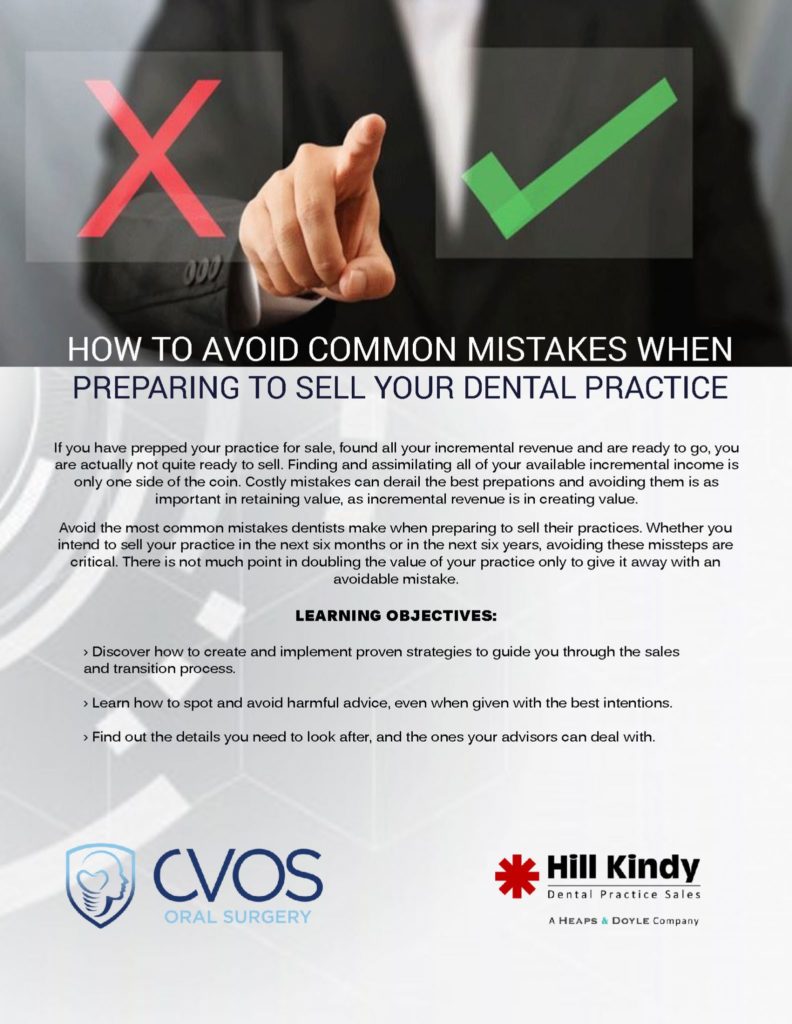 Speaker: Derek Hill & Cass Paolella, Hill Kindy Practice Sales & Realty Inc., Brokerage
Topic: How to Avoid Common Mistakes When Preparing to Sell Your Dental Practice
It is never to early to learn how to avoid the most common mistakes dentists make when preparing to sell their practices. Whether you intend to sell your practice in the next six months or in the next six years, avoiding these missteps is critical. There is not much point in doubling the value of your practice only to give it away with an avoidable mistake.
Creating value in your practice is step 1. RETAINING value in your practice so it remains when you choose to sell is step 2! Register now to learn how!
LEARNING OUTCOMES:
Discover how to create and implement proven strategies to guide you through the sales and transition process.
Learn how to spot and avoid harmful advice, even when given with the best intentions.
Find out the details you need to look after, and the ones your advisors can deal with.
Location: Online
Audience: Practice Owners, Office Managers, Business Managers
Fee: Compliments of CVOS Oral Surgery and Hill Kindy Practice Sales & Realty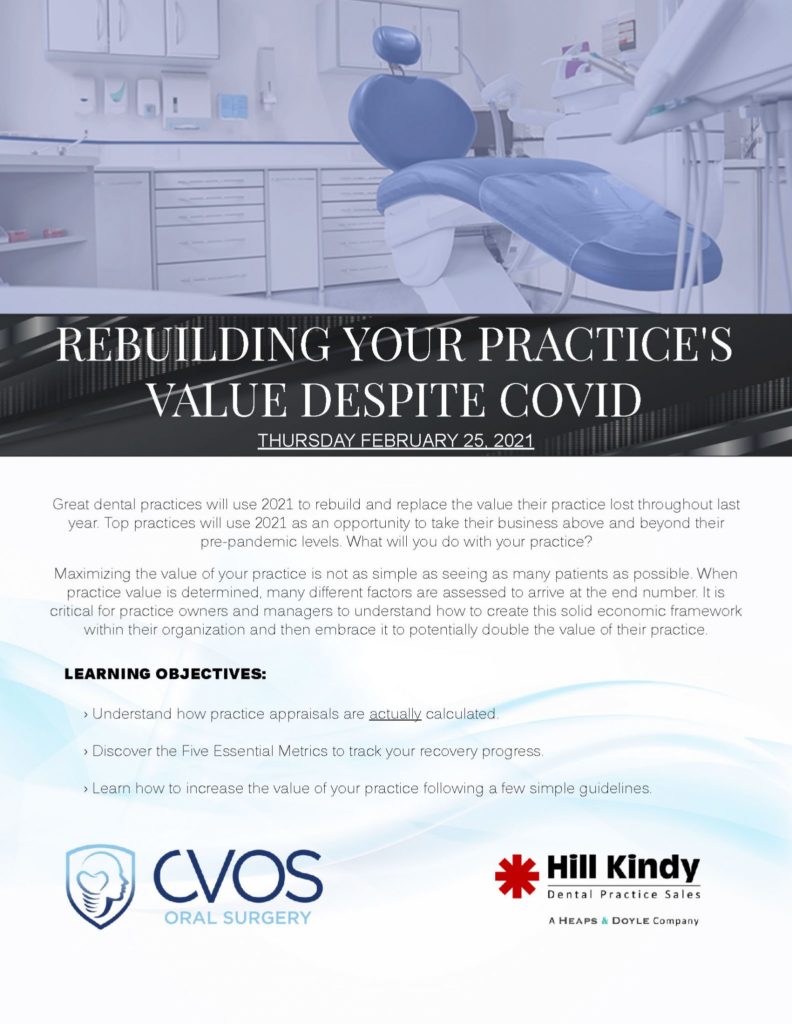 Speaker: Derek Hill & Cass Paolella, Hill Kindy Practice Sales & Realty Inc., Brokerage
Topic: REBUILDING YOUR PRACTICE'S VALUE DESPITE COVID
Maximizing the value of your practice is not as simple as seeing as many patients as possible. When practice value is determined, many different factors are assessed to arrive at the end number. It is critical for practice owners and managers to understand how to create this solid economic framework within their organization and then embrace it to potentially double the value of their practice.
Are you set to use 2021 to rebuild and regain the value your practice may have lost through the pandemic? Register now to learn how!
LEARNING OUTCOMES:
Understand how practice appraisals are actually calculated.
Discover the Five Essential Metrics to track your recovery progress.
Learn how to increase the value of your practice following a few simple guidelines.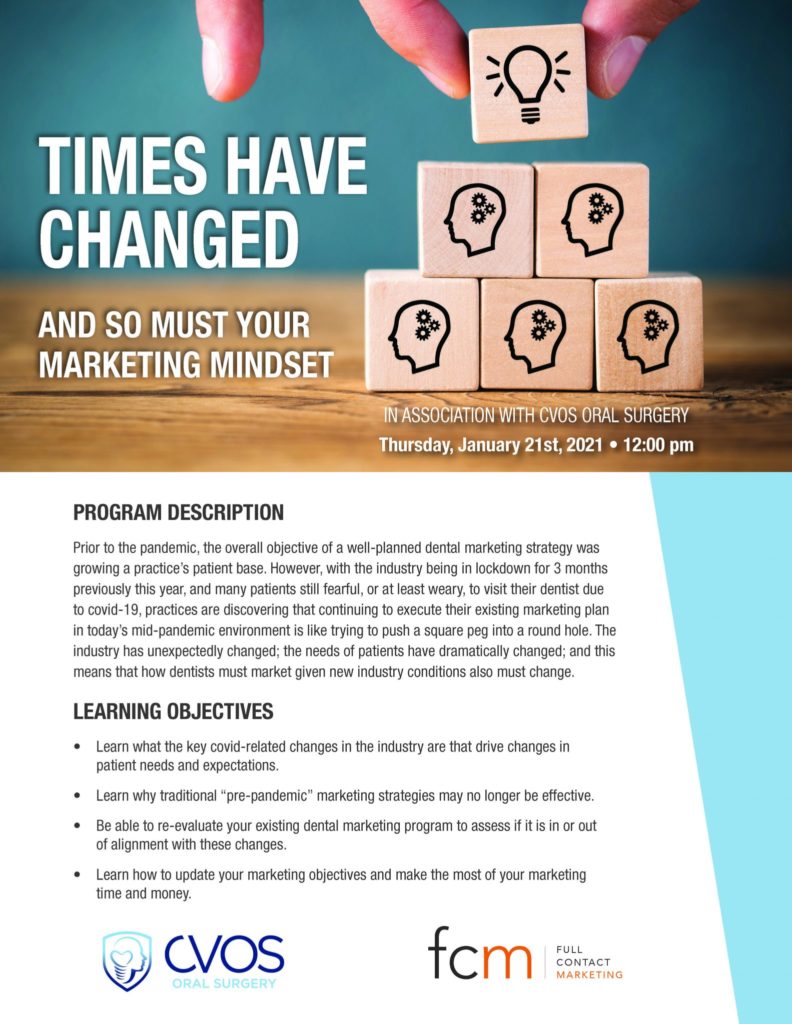 Speaker: Dan Pisek, Principal & Marketing Advisor, Full Contact Marketing
Topic: Times Have Changed – And So Must Your Marketing Mindset
LEARNING OUTCOMES:
Learn what the key covid-related changes in the dental industry are that drive changes in patient needs and expectations.
Learn why traditional "pre-pandemic" marketing strategies may no longer be effective.
Be able to re-evaluate your existing dental marketing program to assess if it is in or out of alignment with these changes.
Learn how to update your marketing objectives and make the most of your marketing time and money.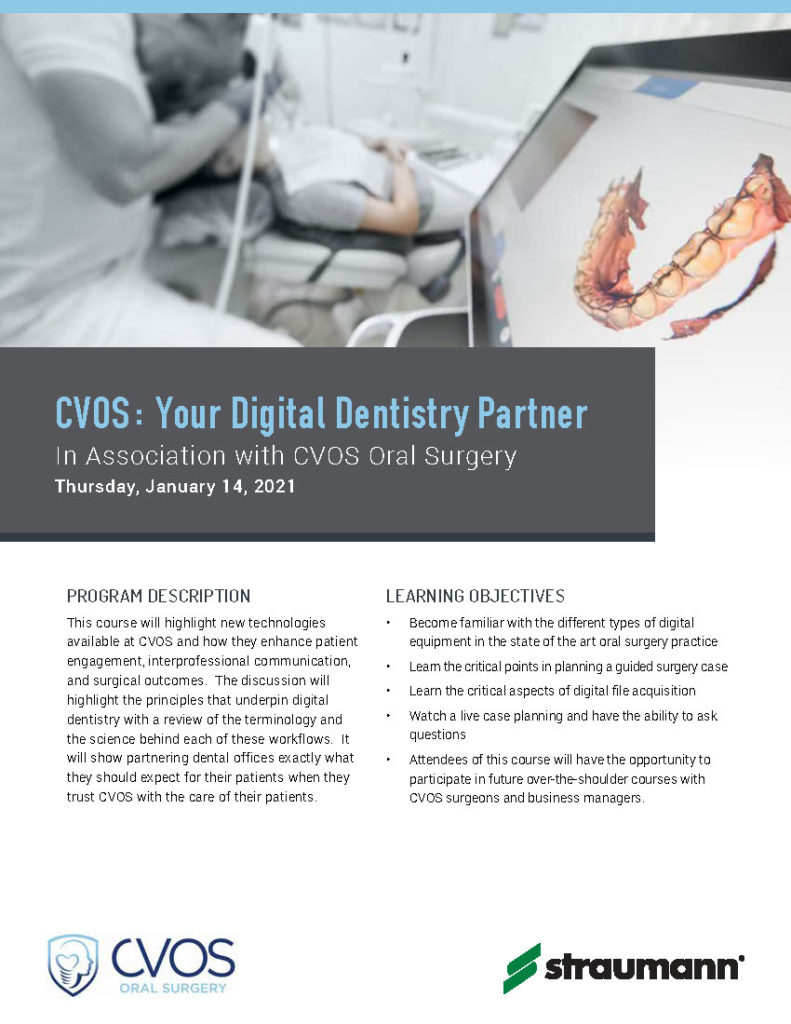 Speaker: Dr. Stephen K.C. Ho
Topic: CVOS: YOUR DIGITAL DENTISTRY PARTNER
LEARNING OUTCOMES:
Become familiar with the different types of digital equipment in the state of the art oral surgery practice
Provide insight into the importance of proactive patient communication during this time of fear and uncertainty
Learn how your marketing approach and the message communicated needs to be fluid
Better understand the long-term opportunity costs of not focusing on communication now
Outline a patient retention-focused communication-based action plan to start working on now
Location: Online
Audience: Surgeon, Oral surgeon, Maxillofacial surgeon, General practitioners, Dental assistant, Dental hygienist, Office Staff
POST-PONED TO SPRING 2021
Patient and Doctor Information