What Is Grafting?
Dental bone grafting is a surgical procedure used to build bone in the jaw. Grafting may use bone from elsewhere in the body, or synthetic material may be an option. The procedure is commonly performed before dental implant surgery, as dental implants are directly attached to the jaw bone.
Patients may have poor jaw bone structure for various reasons, from gum disease to facial trauma. Adding bone to your jaw can benefit your oral health by supporting your teeth and oral structures.
Although dental bone grafting can be a relatively minor procedure, it still requires the expertise of a surgeon. If a dentist or medical professional recommends a dental bone graft, an oral surgeon can complete the bone graft.
Why Would I Need a Dental Bone Graft?
Dental bone grafting is typically recommended for patients with bone loss. Patients may need a bone graft to restore function or stability. Additionally, grafting may be required before a patient can be a good candidate for dental implants, dentures, or other dental procedures.
Tooth loss can cause jaw bone loss. A missing tooth can increase bone resorption in the jaw, as the area no longer receives stimuli, such as chewing or biting. Your cells decrease the bone growth necessary for maintenance, leading to tooth shifting and changing facial structure. It can also make adding replacement teeth (dental implants, bridges, dentures) more challenging.
CVOS Oral Surgery may recommend socket preservation after a tooth extraction or lost tooth. Adding bone (or a bone substitute) can prevent recession or shrinkage in bones and gums.
Gum disease is another common dental problem that can break down bone. The earliest stage of the infection (gingivitis) is reversible but can worsen over time, affecting the gums, ligaments, and bone that support teeth and attachment to the jaw.
Minor bone grafting can be performed by an oral surgeon to add bone or correct deformities, improving the jaw's structure or appearance. However, major bone grafting surgery may require a hospital stay if a patient has significant bone loss.
One of our surgeons at CVOS Oral Surgery can assess whether a patient is a good candidate for bone grafting and if they can perform the procedure in our office.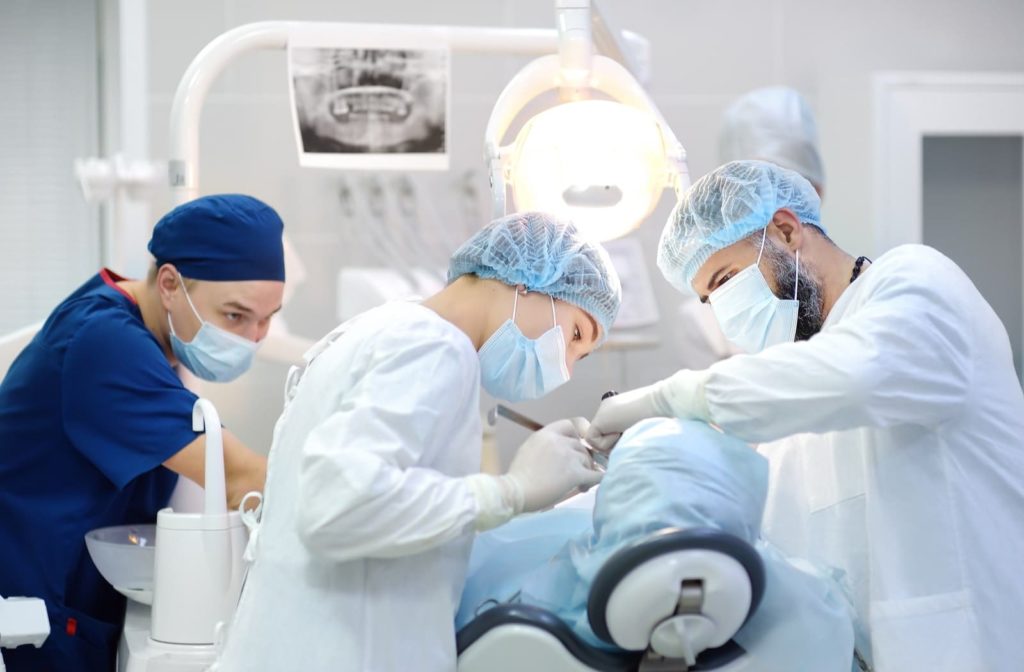 Types of Bone Grafts
Bone grafts can be added to the lower or upper jaw and use either natural or synthetic material. Each bone grafting option has risks and benefits. Our surgeons at CVOS Oral Surgery can determine which bone graft material is best for you.
Natural or "real" bone may be harvested from the patient or another person (or animal). CVOS Oral Surgery uses multiple grafting options that do not use a patient's own bone, eliminating the need for a second procedure.
Using bone from another person or animal can improve the patient's comfort, as the patient doesn't need to recover after bone harvesting. Similarly, synthetic materials do not require a second procedure. However, bone regeneration can take longer than using the patient's own bone.
Allografts
Allogenic bone, or allograft, is dead bone harvested from a cadaver. An allograft can't produce new bone. Instead, it provides a structure for the surrounding natural bone. After surgery, bone growth attaches to the graft, filling in any defects and adding strength.
Xenografts
Xenogenic bone is a non-living bone taken from another species, usually bovine bone. Similar to an allograft, bone growth after surgery helps stabilize the new structure.
DMB/DFDMA
Demineralized bone matrix (DBM) or demineralized freeze-dried cone allograft (DFDBA) is a natural but processed allograft bone material. The material contains collagen, proteins, and growth factors and is available in powder, putty, chips, or as an injectable gel.
Graft Composites
Graft composites combine materials, including natural bone and synthetic materials. Some graft composites options are:
Collagen & ceramic composite
DBM combined with bone marrow cells
Collagen, ceramic, & autograft composite
Bone Morphogenetic Proteins
Bone morphogenetic proteins (BMPs) are naturally produced by the human body to stimulate bone growth. It's considered a "boneless" graft as it promotes natural bone formation rather than attaching an external structure.
Are There Alternatives to Bone Grafting?
Bone grafting isn't the only option to improve stability and strength. Our team at CVOS Oral Surgery is dedicated to staying informed about the latest technologies and procedures. We can recommend the best option for your oral health and comfort level when alternatives are possible.
Contact Us for More Grafting Information
As CVOS Oral Surgery doesn't harvest bone from the patient, grafting can be a relatively minor procedure with only 1 surgery location. After surgery, our team is available to support your recovery and answer questions about postoperative care. Patients will need time to recover, commonly between 10 days to 2 weeks.Our friendly and experienced CVOS Oral Surgery team can assess whether grafting is the best option for your oral health. If you have concerns about your jaw health, contact us, and we can discuss how to help.