You can visit your family dentist every 6 months for ongoing oral health and regular preventative maintenance. But sometimes, issues that require procedures or treatments that not all dentists offer can develop in our mouths.
Visiting an oral and maxillofacial surgeon (OMFS) may be required when an advanced treatment, such as an impacted wisdom tooth removal or orthognathic jaw surgery, may be necessary when braces alone can't straighten teeth.
An OMFS undergoes specialized and intensive training that equips them to perform advanced procedures that bridge a gap between dentistry and medical treatment of face and jaw issues.
Can You Get Oral Surgery at Your Family Dentist?
Oral surgery is an umbrella term for surgical procedures in the mouth, such as a tooth extraction or removal of infected soft tissue. These procedures don't always require specialized training above what a dentist already receives.
But oral and maxillofacial surgery is a different branch of oral surgery that provides patients with options for facial reconstructive surgery, bone grafting, jaw surgery, wisdom tooth removal, or dental implants. These types of surgical procedures are not typically available at a general dentist unless they are certified to do so.
Who Performs Oral & Maxillofacial Surgeries?
OMFS are uniquely qualified to perform oral and maxillofacial surgeries due to their extensive training. To understand the extent of this training, remember that a dentist requires 4–5 years in dental school, plus any prerequisite courses or programs for admittance. For some, this may be completed concurrently with a medical degree, as has been the case with some of the oral surgeons at CVOS Oral Surgery.
Once an OMFS goes through this process and gets their dental degree (DDS), their journey is only beginning. An Oral and Maxillofacial Surgery residency program and successful completion of the National Dental Specialty Examination (NDSE) in Oral and Maxillofacial Surgery are required.
Additionally, some OMFS choose to gain further education. Some earn a medical degree (MD) in addition to their DDS and completion of the Oral and Maxillofacial Surgery residency program. These surgeons are considered to have dual degrees, and they gain the experience of a hospital-based program.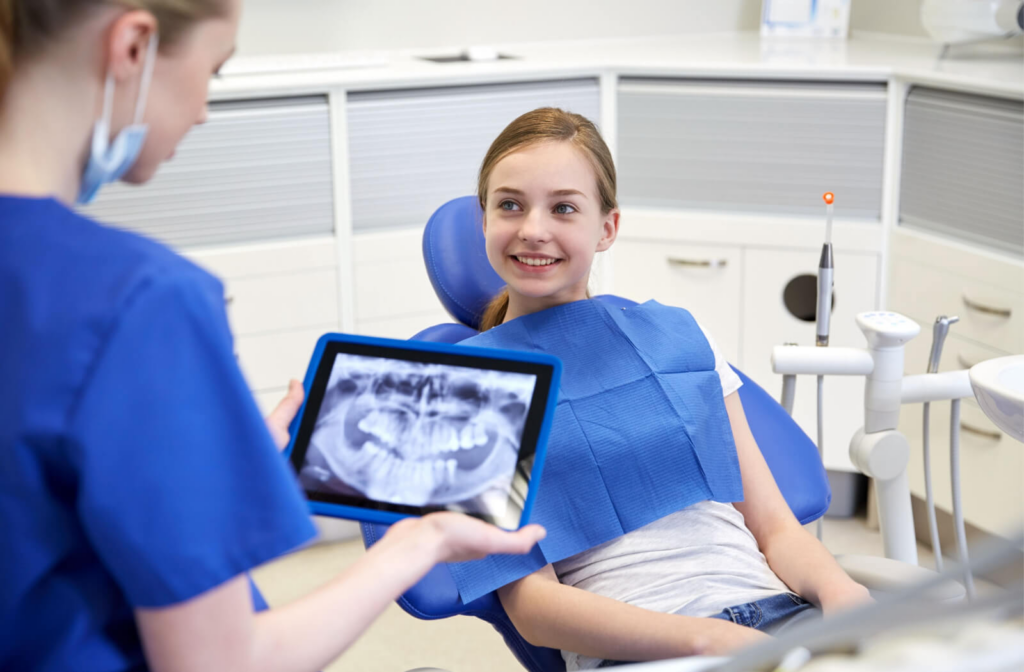 What Kinds of Surgery & Procedures Can OMFS perform?
OMFS are qualified to perform many surgical procedures involving the bone and soft tissue in your face, mouth, and jaw. Let's review a few things you may be referred to an oral surgeon for.
Impacted Wisdom Tooth Removal
In a person's late teens, 4 wisdom teeth typically erupt from their gums. And in most cases, their mouth cannot comfortably contain these new teeth. Even an adult's mouth may not have room for the teeth. A partially erupted wisdom tooth can cause pain and discomfort. Plus, it creates an increased risk of infection, can shift other teeth out of place, and in rare cases, can cause tumours or cysts to develop.
If your family dentist notices that you may be at risk for problems as your wisdom teeth come in, they can recommend you to CVOS Oral Surgery. One of our surgeons can thoroughly examine your mouth and X-rays to develop a treatment plan.
Corrective Jaw Surgery
There are several types of corrective jaw surgery. They fall under the umbrella of orthognathic surgery, which can be an option for correcting your teeth where regular orthodontics aren't adequate.
Orthognathic surgery can also correct other things, such as bite, facial symmetry, breathing problems, speech problems, and difficulty chewing. Once referred, your surgeon will review your options and continue working closely with your orthodontist to give your surgeon the information needed for successful treatment.
Dental Implants
Dental implants are a modern solution for missing teeth. There are several options ranging from replacing a single tooth to replacing several or all of your teeth. Some dentists are trained to perform a dental implant. However, most will refer their patients to an OMFS.
The dental implant process is typically a 2 appointment procedure for many candidates with otherwise healthy gums and jaw bones. The OMFS implants the anchor into the jaw bone. Then, once that is healed, the artificial tooth is attached.
In a situation where the patient doesn't have adequate bone structure, for example, if periodontitis has gone untreated and damaged the bone structure, there may not be enough bone to implant the anchor. This doesn't mean a person cannot get a dental implant, but their surgeon may need to perform bone grafting. This could lead to more than 2 appointments for the implant.
Discuss Your Surgery Options with Our Experienced Team
Seeing your family dentist is a critical part of maintaining a healthy mouth and your best shot at preventing the need for surgery. But when something happens, whether resulting from an injury or disease, an OMFS may be the best medical professional to see. Knowing their dental surgeon's qualifications can provide peace of mind for many people, so contact us at CVOS Oral Surgery today. The professional team can answer your questions and direct you on the next steps.