Dental bone grafts are a common surgery performed to treat several dental issues. You should have a dental bone graft performed by a trained surgeon with a deep understanding of the surgical practices involved.
To learn more about the different types of dental bone grafts and why you might require the procedure, contact our highly trained team of surgeons at CVOS Oral Surgery and read our full blog below.q
What Are Dental Bone Grafts?
A dental bone graft is a standard surgical procedure where an oral surgeon makes an incision into the jaw and attaches other bone material. Autografts are generally the preferred form of bone grafting as it uses your own bone, which promotes faster healing and bone formation.
Who Needs Dental Bone Grafts
Here are some common reasons a patient might get dental bone graft surgery:
They need implants for a missing tooth
They need additional jaw support due to tooth loss or gum disease
They have bone loss
Risks of Bone Grafting
Dental bone grafting is generally a safe procedure, but there are some risks to be aware of:
Infection
Blood loss
Blood clots
Nerve damage
Complications with the anesthesia used
We recommend you speak with an oral surgeon who has been specifically trained to perform dental surgeries and is qualified to treat surgical issues ranging from the neck to the lower skull.
Why Should You Maintain A Healthy Jawbone?
It is important to maintain a healthy jawbone if it has begun to deteriorate due to injury or missing teeth. Here are some consequences of an unhealthy jawbone:
Your remaining tooth may drift or move
Your facial profile could collapse
The skin around your mouth can wrinkle
You may have difficulty chewing and eating
It can impact your lip support
You could have difficulty speaking and communicating
Before vs Aftercare for Dental Bone Grafts
Preparing For Dental Bone Grafts
Preparation before a bone graft typically begins with a discussion with your oral care provider. They will want to learn more about your medical history and any medications you may be taking. Sometimes, further imaging and x-rays may be requested to get a clearer picture of your jaw and teeth.
Aftercare For Dental Bone Grafts
You will generally go home with bandages and gauze surrounding your jaw and the incision site. You are likely to receive a prescription for pain medication, and may also be prescribed antibiotics to help prevent infection. Here are a few other aftercare tips:
Use ice packs to help reduce swelling and discomfort
Avoid harder foods and stick to soft and bland options
Sleep with your head elevated the first few days to help stop any blood from pooling at the incision site
Avoid hot foods and liquids
Avoid any contact sports
If you are experiencing any persistent symptoms or discomfort, contact your doctor to have them check up on your health.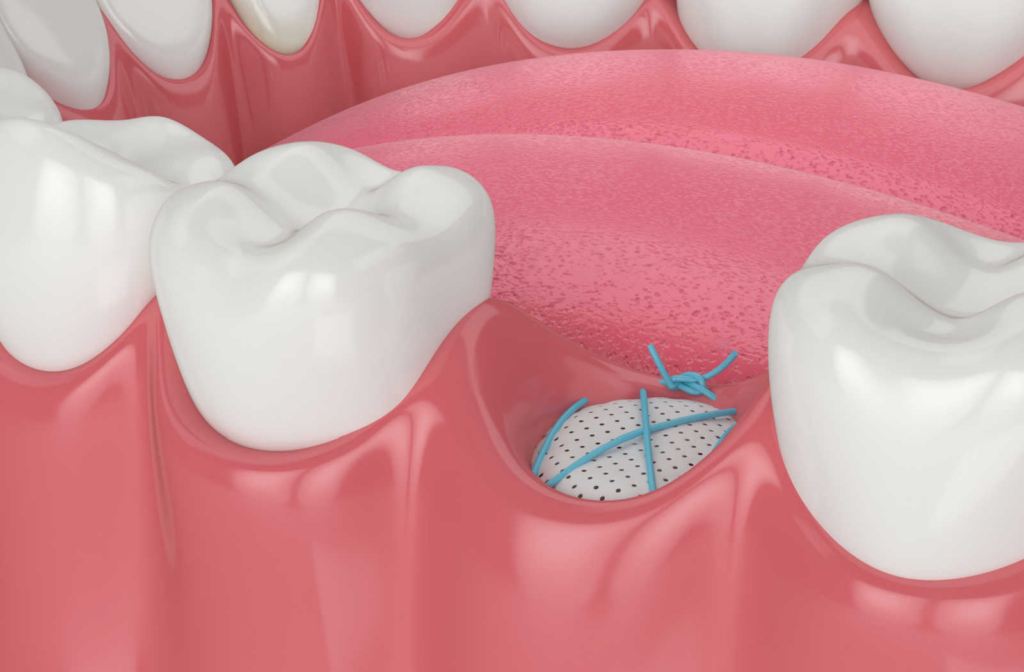 Types of Dental Bone Grafts
The type of dental bone graft you will need depends on your condition and the area that must be treated. Here are a few common types of dental bone grafts:
Socket Preservation
Socket preservation surgery implies doing the bone graft and tooth extraction simultaneously to avoid any bone loss that could happen after the tooth has been removed. Socket preservation can be a great technique by reducing the need for any bone augmentations needed later on.
Ridge Augmentation
Ridge augmentations are a standard type of dental bone graft surgery performed after tooth extraction. It is used to help restore any change in the contour of your gums or jaw.
Sinus Lift
A sinus lift is a procedure that may be used when you don't have enough jaw bone to secure dental implants. It generally involves lifting the maxillary sinus bone to make space for new bone to be placed. If you have less than 4 to 6 millimetres of bone height in the back of your jaw, your oral surgeon may recommend a sinus lift.
Periodontal Bone Graft
Periodontal disease is a serious gum disease that can begin to erode the bone that supports your teeth. A periodontal bone graft places bone around the teeth for more support and stability.
How is Dental Bone Graft Surgery Performed?
Dental bone grafts are generally performed using the following steps:
Your surgeon will administer anesthesia prior to beginning the procedure
The surgical area will be thoroughly cleaned
Your surgeon will make an incision to expose the area where the new bone will be placed
The new bone will be placed in the incision site
The bone will be placed together using special adhesive material or screws
The incision will be closed
Book a Consultation Today
Ask your dentist for a referral to CVOS Oral surgery, or contact us directly to speak with one of our friendly staff. An experienced oral surgeon is your best option for a surgical procedure for your teeth.